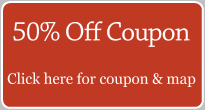 Storage Coupons
Storage North Phoenix Az
Phoenix Storage Discounts
623-869-7010
New Customer Coupons & Discounts:
50% Off 1st Months Rent:
New Deer Valley Storage customers will receive 50% off the 1st months rent on any self storage unit or vehicle parking space.
10% Off Active Duty Military:
All active duty military receive 10% off any storage unit or parking space. Not combinable with any other offers.
Existing Customer Discounts:
Prepay 6 Months Get 1/2 Month Free:
Prepay 6 months rent on any storage unit and get the 7th month for half price.
See Manager for details.
Prepay 12 Months Get 1 Month Free:
Prepay 12 months rent on any storage unit and get the 13th month for free.
See Manager for details.
Deer Valley Mini Storage
is proud to be an industry leader in the self storage Phoenix Az business with it's innovative website coupons and various discount programs. Drive up access to all storage units & online account management are just two of the many features available. Call us or reserve your space today -
we can help!
Deer Valley Mini & RV Storage, is a family owned mini storage facility, located in north Phoenix Az. We are extremely proud to present new customers with this amazing money saving
storage discount coupon
for 50% Off the 1st months rent on any size self storage or vehcile storage unit. This incredible money saving offer is our way of helping our new friends during these difficult economic times. All of our current customers enjoy a very high quality storage experience with drive up access to all storage lockers in Phoenix Arizona 85027 at remarkably low monthly rental rates. These discounted rental rates combined with our website coupons have created significant demand for our North Phoenix Storage units, so call us today or reserve your space online now. No credit card or payment required to reserve your self storage or vehicle parking space right now. If you need storage in Phoenix Az - we can help!
Our Associates
Phoenix Storage
- North Phoenix Self Storage
Public, self & mini storage units in Phoenix, Az 85027.
Casa Grande Self Storage
- Copper Mountain Self Storage. Drive up and Indoor self storage and vehicle parking units in Casa Grande.
Self Storage Brokers
- Southwest Self Storage Advisors
Specializing in the sale of self storage assets.